furnished rentals in Charlotte North Carolina starting at $99/day*
Charlotte North corporate housing
contact leasing to check current availability
call (866) 285-0993 or click below
*Average Daily Prices For This Area
1 Month Lease – call for current rates
2 Month Lease – call for current rates
3 Months or more from $99/day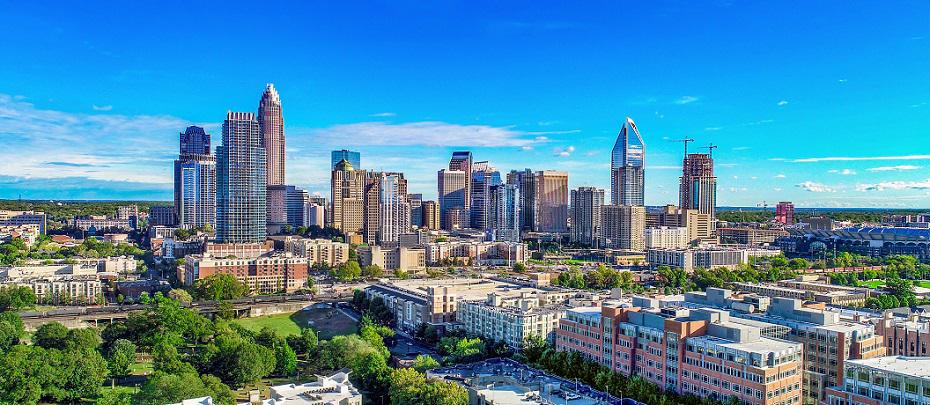 Charlotte, North Carolina is the largest city in the state with just over 900,000 people calling it home. It's a thriving city with the moniker of being the United States' fastest growing city for several years running.
It has a diverse economy with three major banks headquartered here. Charlotte has the second largest banking presence outside New York City, as well as other influences from motorsports, technology, energy and other industries.
History of Charlotte
The region was originally home to the Catawba people who lived here for hundreds of years before being wiped out by smallpox.
Scots-Irish Presbyterians settlers arrived from Northern Ireland after and settled in the area. Germans also settled here, making it a very diverse area to live.
The early settlers named their city after Queen Charlotte of Mecklenburg-Strelitz, presumably inspired by the German settlers. Once named, the city grew steadily from there.
British commander General Charles Cornwallis, 1st Marquess Cornwallis was forced out of the city during the Revolutionary War calling it a 'hornets' nest of rebellion' which coined the city's nickname, The Hornets' Nest.
The city was officially incorporated in 1768 and grew steadily thanks to the Gold Rush and the founding of the Charlotte Mint.
The arrival of the banks during the 1970s caused a mini boom and attracted other businesses to settle in the city. It is now an economic powerhouse with banking one of many industries represented here.
Transport in Charlotte
Charlotte is well connected to the outside world.
Charlotte Douglas International Airport (CLT) provides air links and is joined to the city via bus shuttles. It's a large, modern airport with plenty of amenities.
Amtrak arrives at the station in Dalton and runs regular services across the country. Local LYNX light rail operates a rapid transit service throughout the city.
Greyhound and Megabus operate services into Charlotte Transportation Center, while Charlotte Area Transit System (CATS) run commuter services throughout the city.
Roads include I-77, I-85, I-277, I-485, N.C. 74 and local routes throughout the city.
Major employers in Charlotte
Charlotte has a thriving economy with lots of notable employers including Bank of America, Truist Financial, Wells Fargo, Atrium Health, Charlotte-Mecklenburg Schools, Duke Energy, City of Charlotte, Mecklenburg County Government, Carowinds, University of North Carolina at Charlotte, Central Piedmont Community College, Belk, Bojangles' Famous Chicken 'n Biscuits, Carolina Restaurant Group, Hendrick Automotive Group, Sealed Air, Snyder's-Lance, Coca-Cola Bottling Co. Consolidated, Charlotte Pipe & Foundry Co., U.S. National Whitewater Center, AvidXChange Inc., OrthoCarolina, Amazon, Passport, Lending Tree and Carlisle Companies.
Neighborhoods of Charlotte
Notable Charlotte neighborhoods include Coventry Woods, Uptown, Ballantyne, Plaza-Midwood, University City, Dilworth, SouthPark, South End, Elizabeth, NoDa, Myers Park, Midtown, Cherry, Foxcroft, Eastover, Commonwealth, Barclay Downs, Chantilly, Wilmore, Wessex Square, Easthaven, Eastland, Grove Park, Hickory Grove, Hickory Ridge, Idlewild, Mint Hill, Oakhurst, Plaza Hills, Plaza-Midwood, Ravenwood, Reedy Creek, Shamrock, Sardis Woods, Sheffield Park and Sherwood Forest.
Popular attractions in Charlotte
Charlotte has plenty to see and do while you're here including NASCAR Hall of Fame, The Billy Graham Library, BB&T Ballpark, Discovery Place, Carolinas Aviation Museum, Blumenthal Performing Arts Center, Carowinds, Little Sugar Creek Greenway, Levine Museum of the New South, Hendrick Motorsports Complex, Codescape, Mint Museum Uptown, The Joe & Joan Martin Center, DefyGravity Charlotte, McDowell Nature Center and Preserve, Hall Family Farm, Metalmorphosis, Historic Rosedale Plantation, Wing Haven Garden and Bird Sanctuary, Romare Bearden Park and Wells Fargo History Museum.