furnished rentals in Austin, Texas starting at $105/day
contact leasing to check current availability
call (866) 285-0993 or click below
Austin Texas - City Overview
Austin is the capital of Texas as well as the fourth largest in the state. It's also one of the fastest growing cities in the country and has been for over a decade.
The population is diverse to say the least with every culture and language, every career and vocation represented here. With over a million people calling Austin home, it's a fascinating place to spend time!
History of Austin
The area that is now Austin has been inhabited for over 10,000 years according to archeological finds. More recently, the Tonkawa tribe lived here with Comanches and Lipan Apaches traveling through on a regular basis.
The area wasn't settled until 1730 when three missions from East Texas combined to create one larger one on the Colorado River. The mission moved on but people remained, expanding during the 1830s with the arrival of pioneers.
Texas was briefly an independent country where it was proposed to set up a new capital along the Colorado River to replace Houston. A location was settled and the area named after Stephen F. Austin, the "Father of Texas".
From there, Austin became a center of government and education and slowly expanded its economy thanks to the Texas Oil Boom, technology and healthcare.
Transport in Austin
As the capital of Texas, Austin has plenty of ways to get around.
Arrive by air and you'll use Austin Bergstrom International Airport (AUS). It's southeast of the city, linked by road and rail and offers air routes to many major destinations.
Rail lines will use Austin Amtrak station, which is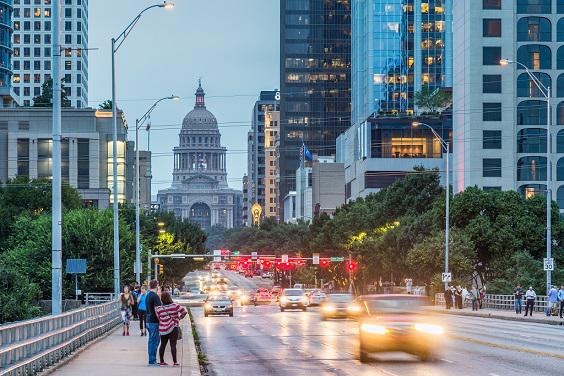 mainly for the Texas Eagle Line running from Chicago to San Antonio.
Metrorail run local commuter services around the city.
Bus services include Greyhound, Shofur, Vonlane, Megabus, Autobus Americanos, Turimex Internacional, Omnibus Mexicanos and the Metropolitan Shuttle.
Local buses are run by Capital Metro and cover most of the metro area.
Road travel uses IH-35, US-290, I-10, Highway 71, TX 71 and hundreds of local routes throughout the Austin region.
Major employers in Austin
Austin has a strong economy that has performed well over the past 20 years or so.
Major employers who call the city home include Adobe, Amazon, Apple, Austin Independent School District, Dell Technologies, Electronic Arts, IBM Corporation, Google, H-E-B, Oracle, Seton Family of Hospitals, St. David's HealthCare Partnership, Tesla, Under Armour, University of Texas – Austin, City of Austin, Applied Materials, AT&T, Flextronics, Accenture, National Instruments and NXP Semiconductors N.V.
Areas and neighborhoods of Austin
Austin is made up of dozens of neighborhoods covering the entire area of the city.
Some of those neighborhoods include Bryker Woods, Caswell Heights, Downtown Austin, Eastwoods, Hancock, Heritage, Hyde Park, Judges' Hill, Lower Waller Creek, North University, Oakmont Heights, Old Enfield, Old Pecan Street, Old West Austin, Original Austin, Original West University, Pemberton Heights, Ridgelea, Ridgetop, Rosedale, Shoal Crest, West Downtown, Allandale, Balcones Woods, Barrington Oaks, Battle Bend Springs, Brentwood, Crestview, Estates of Brentwood, Hancock, Highland, North Burnet, North Campus, North Lamar, North Loop, North Shoal Creek, Saint John and Wooten.
Popular attractions in Austin
There's a lot to see and do in Austin too. Including Sixth Street, Barton Springs Pool, LBJ Presidential Library, McKinney Falls State Park, The University of Texas at Austin Campus, Lady Bird Lake, Bullock Texas State History Museum, Zilker Metropolitan Park, South Congress Avenue, Texas State Capitol Building, UMLAUF Sculpture Garden and Museum, Mount Bonnell, Blanton Museum of Art, Mayfield Park and Nature Preserve, Congress Avenue Bridge and Austin Bats, Auditorium Shores at Town Lake Metropolitan Park, Austin Aquarium, Mexic-Arte Museum, Thinkery and Austin City Limits Live at The Moody Theater.