furnished rentals in Omaha Nebraska starting at $90/day*
contact leasing to check current availability
call (866) 285-0993 or click below
*Average Daily Prices For This Area
1 Month Lease – call for current rates
2 Month Lease – call for current rates
3 Months or more from $90/day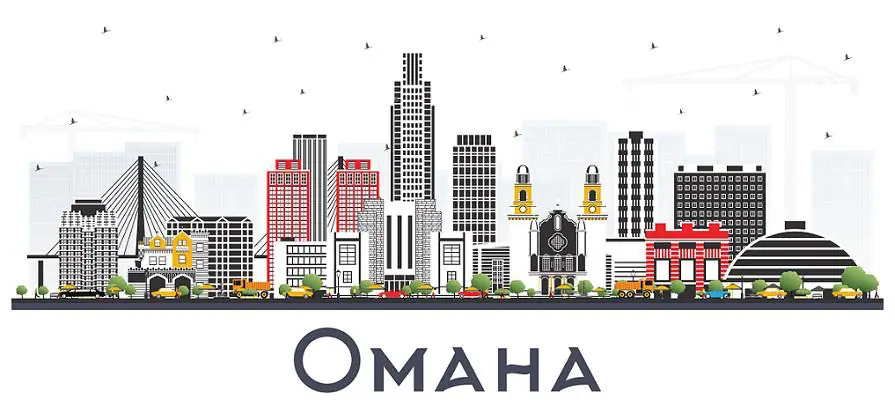 Omaha, Nebraska, is the largest city in the state on the Missouri River. It's has a population of around half a million people and is known for having the highest concentration of millionaires of anywhere in the country.
The city is also known for being friendly, welcoming and inclusive. The economy is stable with a wide base, so there are plenty of jobs and a positive outlook that pervades local culture.
History of Omaha
The region that is now Omaha was home to a number of native tribes who passed through the region regularly. Some of those peoples included Pawnee, Otoe, Missouri, and Ioway.
The original name, Omaha apparently means "Dwellers on the bluff" after those local tribes.
The Lewis and Clark Expedition passed through in 1804 and met with local tribal leaders close by. Immediately afterwards, trading posts opens in the region followed by Fort Lisa and Fort Atkinson, The Union Stockyards and other employers over the next hundred years or so created jobs and opportunity here.
The 20th century saw huge growth, expansion, contraction, natural disasters and regeneration. Omaha survived it all and came out the other side stronger and wiser.
The modern city is diverse, welcoming and thriving.
Transport in Omaha
Omaha has decent transport links, making it easy to get around.
Arrive by air and you'll use Eppley Airfield Airport (OMA) relatively close to the city. It is linked via shuttles and car rental services.
Amtrak's California Zephyr stops behind Union Station on its way to or from San Francisco and Chicago. There is no local light rail service despite the strength of the local economy.
Greyhound and BurlingtonTrailways.com run buses throughout the region while Metro Area Transit run local services around the city.
Road links include I-29, I-80, I-680, Highway 6, Highway 75 and local routes throughout the city.
Major employers in Omaha
Omaha has lots of employment opportunities with some leading companies including Offutt Air Force Base, CHI Health, Omaha Public Schools, Methodist Health System, Nebraska Medical Center, University of Nebraska Medical Center, First Data, Union Pacific, Hy-Vee, First National of Nebraska, Methodist Health System, Fiserv, Mutual of Omaha, Union Pacific Railroad, First National Bank, TD Ameritrade, PayPal, Creighton University, Boys Town, Blue Cross & Blue Shield of Nebraska, Horseshoe Casino Council Bluffs, Valmont Industries, Harrah's Council Bluffs Casino, Children's Hospital, Wholestone Farms, Kiewit Corp, Baxter Auto Group, Ameristar Casino Hotal, CSG International, ConAgra, Omaha Steaks, Nebraska Furniture Mart, Physician's Mutual Insurance Co, Werner Enterprises, Intrado, Bank of the West and Infogroup.
Neighborhoods of Omaha
Omaha is made up of numerous neighborhoods, including Aksarben/Elmwood Park, Aksarben Village, Applewood, Armbrust Acres, Baker Place, Barrington Park, Bemis Park, Bennington, Benson, Bent Creek, Blackstone, Boys Town, Briar Hills, Bridlewood, Broadwood Heights-Golden Valley, Brookhaven, Buena Vista, Burlington Road, Burnt District, Cathedral Landmark District, Carter Lake, Chalco, Conestoga Place, Country Club, Dahlman, Deer Park, Dundee, Eagle Ridge, Eagle Run, Elkhorn, Elmwood Park, Fairacres, Five Fountains, Florence, Field Club, First National Business Park, Fountain Hills, Gifford Park, Gold Coast, Greenfields, Green Meadows, Hanscom Park, Happy Hollow, Harvey Oaks, Hillsborough and Howard Street Apartment District
Popular attractions in Omaha
Omaha also has plenty to see and do while you're here, including Durham Museum, Alamo Drafthouse Cinema, Alpacas of the Heartland, Amazing Pizza Machine, Omaha's Henry Doorly Zoo and Aquarium, Old Market District, First National's Spirit of Nebraska's Wilderness and Pioneer Courage Park, Joslyn Art Museum, Performing Arts Center, Lauritzen Gardens, Omaha Children's Museum, Bob Kerrey Pedestrian Bridge, Saint Cecilia Cathedral, Lewis & Clark Landing, Freedom Park Navy Museum, Lee G. Simmons Conservation Park & Wildlife Safari, Mormon Trail Center at Historic Winter Quarters and Malcolm X House Site.