furnished rentals in Boca Raton Florida starting at $130/day*
Boca Raton corporate housing
contact leasing to check current availability
call (866) 285-0993 or click below
*Average Daily Prices For This Area
1 Month Lease – call for current rates
2 Month Lease – call for current rates
3 Months or more from $130/day

Boca Raton, Florida is a relatively new city in Palm Beach County. Founded in 1924, the city is home to a little over 100,000 people and is largely a commuter town whose population triples during the day.
Boca Raton is known for its Spanish Colonial Revival architecture and a highly developed layout that provides lovely aesthetics alongside tough building controls.
History of Boca Raton
Boca Raton was originally home to the Glades people, a tribe of hunter gatherers who lived on shellfish. Spanish explorers called "Boca de Ratones" arrived where Biscayne Bay is now.
Nobody settled the area for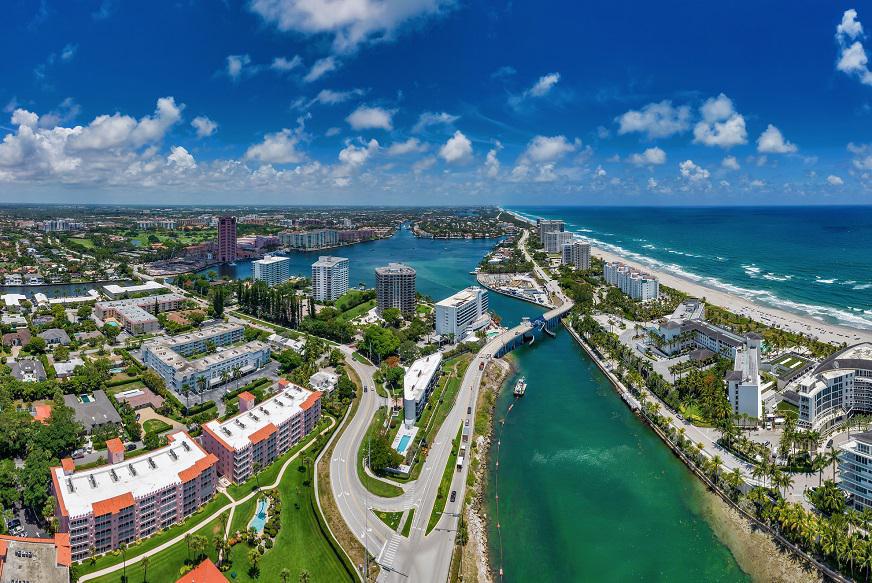 a while, leaving the area home to the Tequestas, until the British were evacuated to Cuba. The region was left empty and desolate despite other area of Florida being developed.
It wasn't until 1920 that farmers settled the area and began building what would become Boca Raton. The city was formally incorporated in 1924 when renowned architect Addison Mizner, set out plans to create a town.
Boca Raton Army Air Force Base arrived during the war years to train B29 crews and radar staff. Once the war was over, the base turned into Florida Atlantic University.
The modern city is largely driven by tourism and the university.
Transport in Boca Raton
Boca Raton doesn't have its own airport but is served by three neighboring facilities.
They are Fort Lauderdale International Airport (FLL), Palm Beach International Airport (PBI) and Miami International Airport (MIA). All are linked to Boca Raton by road and/or rail links. All run shuttles into Boca Raton.
Both Amtrak and TriRail run services into Boca Raton into Yamato Station. There is no commuter or light rail service in town.
Buses are run by Palm Tran and link the city with surrounding areas as well as a commuter service running out of Town Center Mall.
Road links include I-95, Florida's Turnpike, US Highway 1, Congress Avenue, Military Trail, Jog Road, State Road 7, and local routes.
Major employers in Boca Raton
Boca Raton has a modest economy but many well-known brands call the city home, including Florida Atlantic University, ADT, Airspan Networks, GEO Group, Friend Finder Networks, Ortiz Gaming, Sun Broadcast Group, Hollywood.com, Bluegreen Corporation, Dunhill International List Company, Information Television Network, Trump Institute, Tyco Integrated Security, Universal Express, The ODP Corporation and Airstream Jets.
Areas and neighborhoods of Boca Raton
Boca Raton is made up of a series of attractive neighborhoods, including Addison Estates, Azura, Avalon, Bel Marra, Bermuda Square, Blue Inlet, Boca Bay, Boca Bridges, Boca East Estates, Boca Harbour, Boniellos Acres, Camino Gardens, Camino Lakes, Carriage Hills, Lake Rogers, Le Lac, Le Rivage, Library Commons, Mediterrania, Millpond, New Floresta, Newport Bay, Palm Beach Farms, Paradise Palms, Parkside, The Preserve and Royal Palm Forest.
Popular attractions in Boca Raton
Boca Raton is a great place to relax and includes plenty to see and do, including Gumbo Limbo Nature Center, Red Reef Park, Sugar Sand Park, Children's Science Explorium, Daggerwing Nature Center, Spanish River Park, Shop at Mizner Park, Boca Raton Museum of Art, Hillsboro Inlet Lighthouse, Coconut Cove Waterpark, Sports Immortals Museum, Boca Raton History Museum, Butterfly World and Morikami Museum and Japanese Gardens.