furnished rentals in Albuquerque New Mexico starting at $105/day*
Albuquerque corporate housing
contact leasing to check current availability
call (866) 285-0993 or click below
*Average Daily Prices For This Area
1 Month Lease – call for current rates
2 Month Lease – call for current rates
3 Months or more from $105/day
Albuquerque City Overview

Albuquerque is the largest city in New Mexico and is the county seat of Bernalillo County. It's a vibrant city in north central New Mexico known for education, research, military and technology.
The city owes a lot to Route 66 as much as anything, being one of the signature cities on the route. As well as local military bases and transport, there is a lot going on in this city whether you're here to work, rest or play.
History of Albuquerque
Albuquerque was founded in 1706 as a Spanish settlement on the banks of the Rio Grande. It was named after the Duke of Albuquerque, which created one of its nicknames, 'The Duke City'.
Before that, the area was inhabited for thousands of years as demonstrated at the Petroglyph National Monument. Various native tribes called the region home before the arrival of the Spanish.
After the Mexican-American war, a garrison and quartermaster's depot were built. The arrival of the Atchison, Topeka and Santa Fe Railroad started the next chapter in the city's history by bypassing the historical center in favor of a new location 2 miles east.
From there, people began arriving from all over to set up home, store or community. More recently, the arrival of Kirtland Air Force Base, Sandia Base and Sandia National Laboratories boosted the city further.
Transport in Albuquerque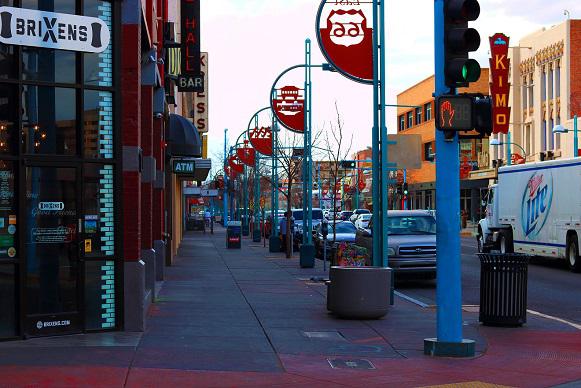 The city has plenty of transport options thanks to its history as a transportation hub.
You'll fly into Albuquerque International Sunport (ABQ) if you arrive by air which is a few miles outside the city center. It is linked to the city via road and rail and runs regular shuttles.
Rails services include Amtrak's Southwest Chief that stops at the Alvarado Transportation Center.
New Mexico Rail Runner Express runs commuter rail throughout Albuquerque to Santa Fe and throughout the region.
The Alvarado Transportation Center is also a bus station where Greyhound, Autobuses Americanos, Metropolitan Shuttle, ABQ RIDE, Rapid Ride and Albuquerque Charter bus run services.
Road links are plentiful and include I-25, I-40, Route 66 and local routes throughout the region.
Major employers in Albuquerque
Albuquerque is home to a wide range of employers from across industries. Major employers include Kirtland Air Force Base, University of New Mexico, Albuquerque Public Schools, Sandia National Labs, Presbyterian Hospital, UNM Hospital, City of Albuquerque, State of New Mexico – Albuquerque Offices, Bernalillo County, Lovelace, Central NM Community College, Blue Cross Blue Shield of NM, NM Gas Co., PNM, Safelite Autoglass, Intel, General Mills, Ernest Health, Premier Distributing Company, TriCore Reference Laboratories, Laguna Development Corporation and CVI Laser Optics.
Neighborhoods of Albuquerque
As with most cities, Albuquerque is made up of a number of neighborhoods, including Historic Old Town, Downtown, Huning Highlands, Nob Hill, University Area, South Valley, Southeast Heights, North Valley, East Mountains, Rio Rancho, Bernalillo, Corrales, Placitas, Heritage East, Vista Del Mundo, Tanoan East, Quaker Heights Road, Skyview Acres, Peppertree-Royal Oak, Southside Farming Community and Ventana Ranch.
Popular attractions in Albuquerque
There is usually something going on in the city, including The Albuquerque International Balloon Fiesta, Tingley Beach Fishing, Sandia Peak Tramway, Indian Pueblo Cultural Center, Albuquerque Old Town, Albuquerque Museum, New Mexico Museum of Natural History and Science, Golden Crown Panaderia, Petroglyph National Monument, Explora, New Mexico State Fair, Cliff's Amusement Park, ABQ Trolley Co., Albuquerque Zoo, ABQ BioPark, Elena Gallegos Open Space, St. James Tearoom, American International Rattlesnake Museum and Rio Grande Nature Center State Park.